YOUR SELF BUILD PROJECT MANAGER
Embarking on a self-build project is an exciting yet daunting endeavour. Having the right support and management is key to ensuring your dream home materialises just as you envision it. Whilst you might fancy running the project yourself, engaging a specialist self build project manager may very well be the most critical player in your self-build journey. From pre-construction to completion, a self build project manager will be an invaluable asset, ensuring your vision comes to life while keeping costs, timelines and quality under control.
Minniedale Projects have a wealth of experience project managing self builds to help bring client projects to fruition. By working with us on your self build project you can take the stress out of keeping every cog in the machine turning, ensuring there is harmony between contractors and no miscommunication.
PROJECT MANAGING YOUR SELF BUILD
Self building your dream home can be a challenging yet rewarding experience. Managing the entire process, however, can be overwhelming and time consuming. Minniedale can ensure your self build project runs smoothly, sharing our expertise to help deliver on your goals.
Project managing your self build involves planning, organising and controlling the various aspects of your self build journey. With a specialist in charge to lead the way, record progress and monitor tasks, we'll help you stay on track to ensure you don't miss any details. Our organisation and efficiency will help you to stay within your budget and timeline.
In any self build project it is essential to have a clear schedule of tasks and deadlines. By keeping track of all costs and sources of materials your self build project manager will make sure you are getting the best value for money.
It is also important to be aware of the legal and statutory compliances and considerations when it comes to self builds. This includes understanding planning permissions, building regulations and health and safety requirements that will need to be met. Having a clear plan for managing any risks that may arise during the project is another key strength of a project manager, saving you from headaches further down the line.
If you want to be sure that your self build project will be a success your first appointment should be that of a self build project manager. We will provide expert advice and guidance on the entire process, because we've been there before and know how to keep things on track whilst avoiding common pitfalls.
SELF MANAGEMENT VS PROFESSIONAL PROJECT MANAGEMENT
Project management is an important part of any construction or renovation project, but who undertakes this vital role is determined by the client. Professional project management will invariably save time and stress versus self-management because your project manager will have that much more practical experience in the field and onsite. By engaging Minniedale as specialist self build project managers, you can benefit from a more structured approach to project management, ensuring your build is properly planned and executed, with all necessary permissions and compliance regulations met.
Self-management, on the other hand, involves taking on the task, and all of the risk, of managing the project yourself without the experience. You may call upon the help of resources such as books, online training courses and tutorials but ultimately there's just no substitute for experience and industry knowledge. This approach usually requires considerably more time and effort to ensure that the project is completed correctly and even the most seemingly straightforward projects will inevitably go over budget and beyond initial deadlines. You might consider this would allow for more flexibility in terms of the project's direction and scope, so you're able to make changes on the fly as needed, but the self build project manager you engage will have the same motivations you do, so you shouldn't be concerned that they won't be flexible and able to adapt to the project's changing needs as it develops.
WHAT IS THE ROLE OF A SELF BUILD PROJECT MANAGER IN THE CONSTRUCTION PROCESS?
A self build project manager is going to be responsible for managing the entire process from start to finish, coordinating everything from design and planning, through to construction and completion. Whether you engage Minniedale Projects during the pre-construction stages or further along and choose to have us act as your project manager, we will work closely with architects, engineers, planners, environmental sustainability consultants and other professionals involved in the project to ensure that the build is a success, while also managing the budget and making sure all costs are kept to a minimum.
We will ensure that all safety regulations are met, and that the build is completed to the highest possible standards. Dealing with any issues that arise during the construction process efficiently, as well as liaising with local authorities, building control and other stakeholders would also come under our remit.
Having a self build project manager on board is therefore essential in providing invaluable guidance and knowledge throughout the entire design and build process.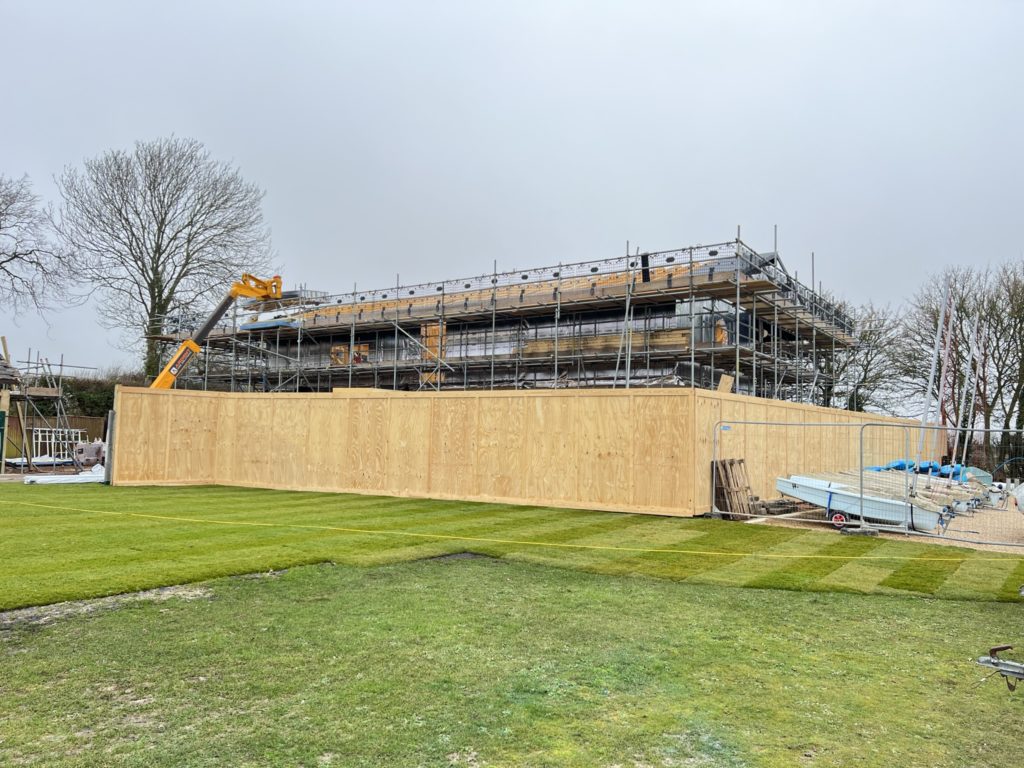 HOW CAN A SELF BUILD PROJECT MANAGER HELP IN AVOIDING COMMON CONSTRUCTION ISSUES?
Your Minniedale team will ensure that all the necessary drawings, plans and permissions are obtained before construction begins, which can save a lot of time and money in the long run. We will also work with the contractor to ensure that the right materials are ordered and if these are not available on time we can suggest alternatives, avoiding costly delays.
Throughout the project, we'll monitor construction progress, identify any potential problems and take steps to rectify them before they become costly issues. What's more our longstanding relationships with dependable suppliers and subcontractors can help you get the best materials at the most competitive prices.
Additionally, we will provide advice and support to you throughout the construction process. You'll have a specialist building project management consultant on hand at every step of the process so you're never in the dark about progress and deliverables.
WHAT ARE THE KEY SKILLS YOU SHOULD LOOK FOR IN A SELF BUILD PROJECT MANAGER
Project management is an important and demanding role in the construction industry. It requires a high level of skill and expertise to successfully manage a project from concept to completion given the many variables at play.
The ideal candidate for this role must have excellent communication and organisational skills, as well as an excellent in-depth understanding of the building process, materials and techniques. They should have a knowledge of relevant building regulations and legislation, relevant insurance and the ability to work with and manage contractors. In addition, they should have an understanding of construction cost management, knowledge of health and safety requirements, and of course a natural ability to work to tight deadlines.
Finally, a self build project manager should possess problem solving skills and the ability to work as part of a team. By choosing to work with Minniedale Projects you'll get the right attitude and experience, ready to perform an instrumental role in the successful completion of your project.
WOULD HIRING A SELF BUILD PROJECT MANAGER SAVE ME MONEY IN THE LONG RUN?
Almost certainly! By helping you to plan, manage and execute your project from start to finish, we'll save you from coming up against the many common problems that can delay self build construction projects, so having us on board can be a great way to save time and money in the long run. Use our wealth of experience to select the right contractor to avoid poor workmanship and rising costs. Minniedale Projects will take the stress out of the process, giving you peace of mind that your project is in the best possible hands.
GET IN TOUCH
If you're looking to embark on a self-build project, no matter how ambitious it may be, get in touch with us to discuss your requirements and find out just how much more cost effective it can be compared with attempting to manage the build yourself.