BUILDING PROJECT MANAGEMENT CONSULTANTS
ARCHITECTURE
PLANNING
After an initial consultation to understand what alterations or additions you wish to carry out on your property we perform a search of the planning history of your area. This is to ascertain if there is any information available to assist with developing your brief. We will feedback the results of the research and advise accordingly. If the site is contentious we may recommend submitting a pre-application. This enables us to open up dialogue with the planners before submitting an official planning application.
​​​​​​​
We start the design process with a series of initial drawings based on your vision for the project. These are submitted either as sketches or CAD drawings. We then develop the scheme in plan, elevation and section until you are happy with the layout. Once you are satisfied we submit these to the Local Planning Authority. This includes the drawings, forms, certificate of ownership, Design and Access Statement and covering letter. Minniedale Projects will then monitor the progress of the planning application until a decision is received.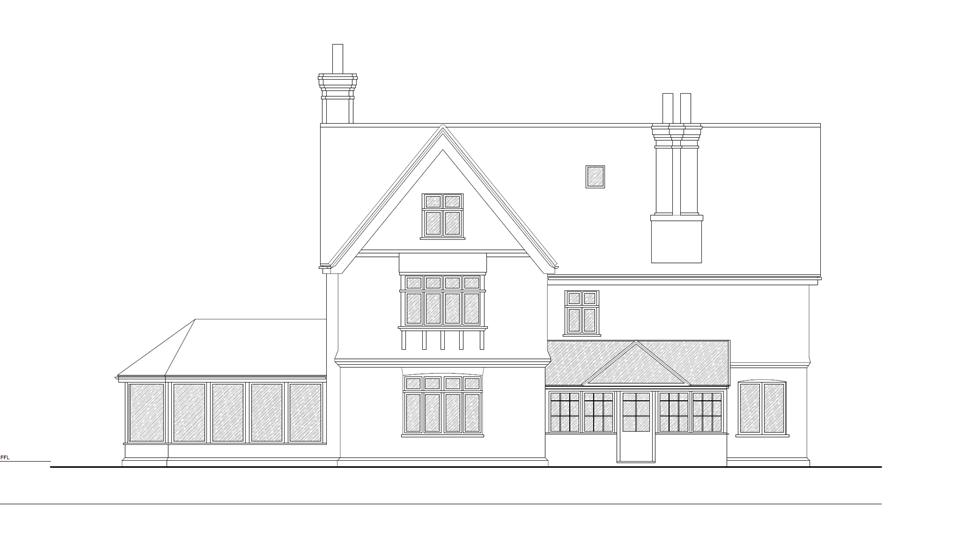 ARCHITECTURE
BUILDING REGULATION DRAWINGS
Following the submission of the planning application and receipt of planning approval we develop the planning drawings into a set of Building Regulation Drawings. This package provides details and specification for the builder so they meet current Building Regulations and achieve the overall finish. These drawings are submitted to Building Control to perform plan checks leading to the issue of a certificate of compliance. This confirms the scheme will pass Building Regulations if the builder follows the drawings and specification. Minniedale Projects also appoint and liaise with other consultants necessary to the build such as Structural Engineers to translate their information onto the drawings in preparation for construction.
Once the above architectural services stages are complete we can assist you further through our Project Management services, whether self build project management or project managing a home renovation project. These services assist you with accurately pricing the job, selecting the right builder and assistance during the build.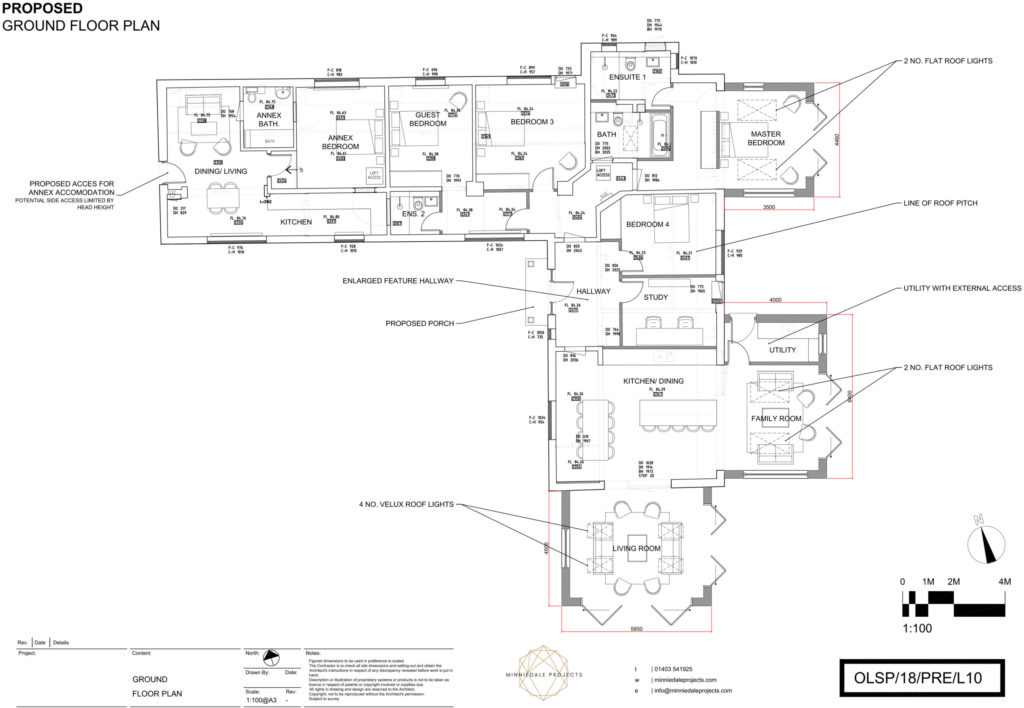 PROJECT MANAGEMENT
PRE-CONSTRUCTION STAGES
Appointing and working with specialist consultants / professionals vital to the successful completion of your build. Know the costs of any professionals you will need in order to prepare your project for construction. This is useful from a budgeting perspective and also to prevent delays on the project. For example, Building Control, Structural Engineer, M&E Consultant, Party Wall Surveyor, CCTV Drainage Surveyor, Ground Investigator, New or Relocation of Utilities (gas/electric/water).
Involvement of some or all of these consultants can be overwhelming and co-ordinating their information at the correct stages of the build is vital to a successful build.Writing a detailed Schedule of Works of the build which can be tendered with the Architects and Engineers Drawings to each builder for accurate pricing. A common issue with comparing quotes from various builders without a detailed Schedule of Works is that each builder will be pricing the job in their own pricing format. This often leads to different assumptions and quantities, making the pricing you receive incomparable. The Schedule of Works is then used as the reference document throughout the build when requests are made for payment by the builder. Tendering your project. Minniedale Projects have a database of builders we have worked with on previous projects.
Have confidence that the builders on your tender list are capable and committed to your project. Minniedale Projects can perform due diligence on builders we haven't worked with to check the quality of their work and how they manage their sites. Tender analysis. Once the tenders are returned Minniedale Projects review the pricing and perform Value Engineering on areas of concern. Once a full appraisal of each tender has been done an informed decision can be made on who to appoint and sign contracts with.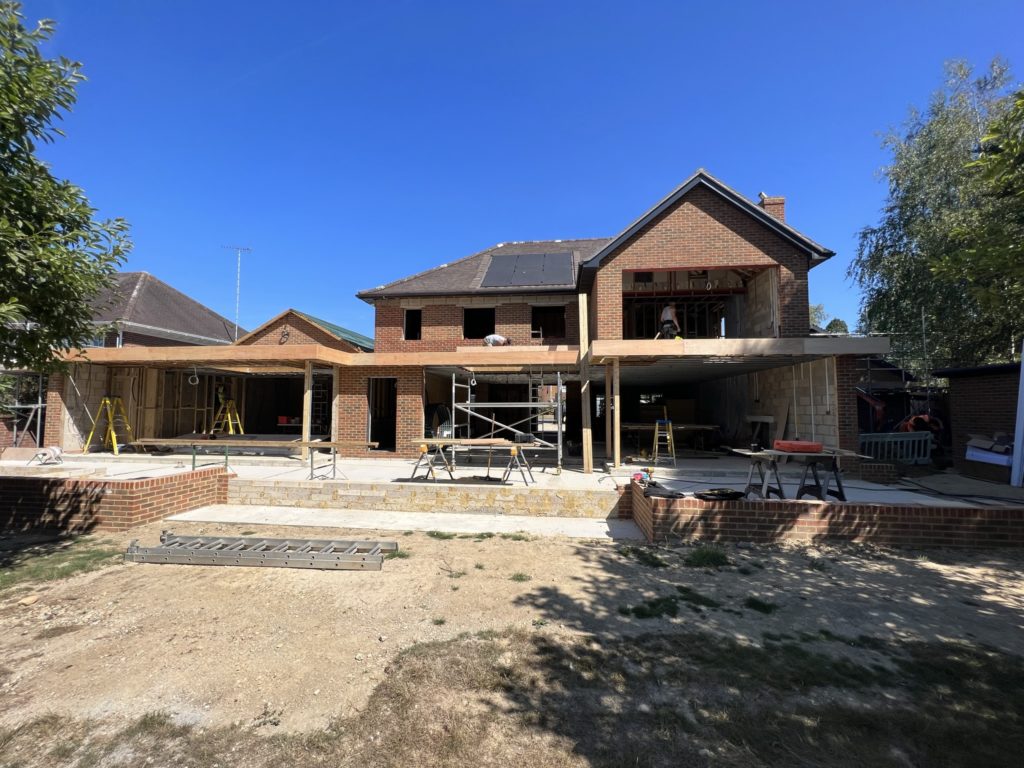 CONTRACT ADMINISTRATION
Appointing a builder and signing of contracts. Minniedale Projects act as the Contract Administrator to appoint your chosen builder, arrange signing of the JCT form of contract which provides our clients with financial protection and arrangements for the start date.
CONSTRUCTION STAGES
During the build we offer the following services:
Weekly site visits with the client and builder to monitor progress and project programme.
Independent advice and support to the builder and client to ensure a smooth build process.
Controlling any variations that may occur during the build. We also ensure these costs are fair.
Monitoring of quality and workmanship during the build.
Valuations and builder payments. All valuations are processed by Minniedale Projects and are based on project progress which is monitored against the Schedule of Works. This ensures the client is only paying for what has been completed and materials that are on site. A 5% retention is held back against each valuation payment, half of which is settled once the builder reaches practical completion. The balance is then paid after a 6 month defects period.
COMPLETION AND SIGN OFF STAGES
The final stages of any build are extremely important. This is where everything comes together.
Management of the snagging lists and defect control.
Arrangement of the appropriate certificates and sign off from Building Control.
Final Account. This involves the release of any retention funds once the project is deemed to have reached Practical Completion.
CONTACT MINNNIEDALE PROJECTS TODAY
For building project management and consultancy services across Sussex, Surrey, London and beyond just get in touch with our team